Hello World!
So this week, I have been pretty obsessed with Kendrick's Lamar's new album DAMN., and I thought I'd share with you something I've learned from the proclaimed rap savior. I think it's really fitting that the first single released from the album was HUMBLE., because besides that song, the entire album is filled with verses of K-Dot explaining to us how one acts humble, which it such an appropriate lesson because people today are so self-absorbed and full of themselves, especially in the rap game. So it is refreshing to see a rapper who is a little more modest. So anyway, here are my top ten lines from DAMN. of Kendrick teaching us how to be HUMBLE.
1
.
I just win again, then win again like Wimbledon, I serve
Yeah, that's him again, the sound that engine in is like a bird
You see fireworks and Corvette tire skrrt the boulevard
Here Kendrick gives a shout out to some other Compton natives, Venus and Serena Williams, who have won a modest 17 trophies at Wimbledon, and so to compare himself to them it's like saying 'I win, but not much'. He's being modest clearly, because he has 7 Grammys. Then to further show his humility, he describes the modest car he drives - a simple corvette with a turbo engine (bird sound) and custom exhaust pipes (fireworks).
2.
I got 'em by a landslide, we talking' about races
You know this'll never be a tie, just look at their laces
3. Mr. One through Five, that's the only logic
Fake my death, go to Cuba, that's the only option
Many people would say Kung Fu Kenny is the greatest rapper today, some would say of all time, but here he says he's only the top five at best.
4. I feel like debating on who the greatest can stop it
I am legend, I feel like all of y'all is peasants
I feel like all of y'all it desperate
I feel like all it take is a second to feel like
Mike Jordan whenever holding' a real mic
5. My resume is real enough for two millenniums
A better way to a make a wave, stop defendin' them
Most rappers are bold enough to say their music will last forever, but not Kendrick. He's says between his last two albums, he only has a enough hits to two millenniums.
6. Piss out your per diem, you just gotta hate 'em, funk
If I quit your BM, I still ride Mercedes, funk
If I quit this season, I still be the greatest, funk
- HUMBLE.
Some rappers be talking about champagne showers and buying bottles on bottles on bottles on bottles, but Kendrick says he only spends about as much money as you make on drinks, and he just drives a modest car like a Mercedes. Then he says he'd be the greatest, but just for this season, not of all time.


7. My left stroke just went viral
Right stroke put lil' baby in a spiral
Soprano C, we like to keep it on a high note
-HUMBLE.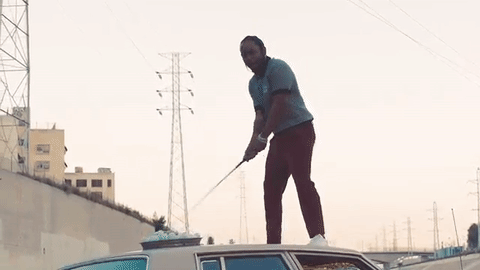 8. My DNA not for imitation
Your DNA an abomination
- DNA.
Here, Kendrick says his DNA is nothing special, not copy him. Your DNA is the one that's different and special. An abomination is something that's against the norm, unheard of, unique!
9. I blew cool from AC,
ayy
Obama just paged me, ayy
I dont't fabricate it, ayy
Most of y'all be faking, ayy
I stay modest 'bout it, ayy
She elaborate it, ayy
-HUMBLE.
10. Been a bad b*tch way before any cash came
I'm established
- Rihanna in LOYALTY.
So I know this is actually Rihanna's verse, but it's from the album, and it's a perfect lesson in humility. Here Rihanna has stayed the same person, and fame and money hasn't changed her. She's still the modest "bad b*tch" that she was before.